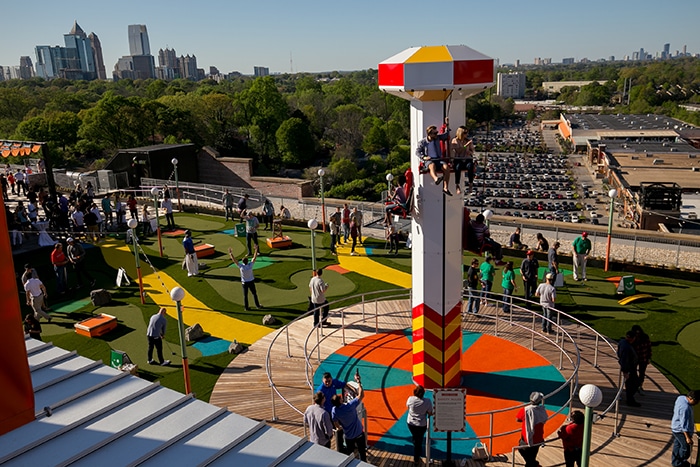 In April, Ponce City Market announced the completion of it's rooftop, Skyline Park.  There have been rumors and speculation including actual photos on social media that the park is now open.  However, Ponce City Market's official word is that an "official" grand opening is "slated for later this summer."
If you visit Ponce City Market's website, there is no information available about the park's opening.  However, we found out this morning on Instagram from "atl_bucketlist" that Skyline Park is open – maybe unofficially.  The hours posted are Sunday to Wednesday from 11 am to 9 pm and 11 am to 11 pm Thursday through Saturday.
So, what is there to do at Skyline Park?  According to the Wall Street Journal, the 1.7-acre Skyline Park includes miniature golf, food and drink options, a dunking booth, steeplechase game, giant slide, one of those test-of-strength-hammer-swinging things, and something called the Heege — a ride that simulates a free-fall.
Beyond the amusement park, the remaining 4.3 acres of the roof will host more restaurants, a large event space (500-person capacity), and private space for building tenants, the WSJ reports.
Official or unofficial, we think this is an awesome addition to Ponce City Market and the Old Fourth Ward!
Photo courtesy of Garden and Gun magazine