"Building more than homes, we're creating experiences."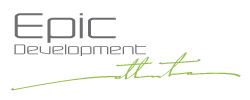 PHILOSOPHY
Our belief is simple. Design and build each home to complement the homeowner's lifestyle.

Epic Development
2020-09-08T15:24:12+00:00
Under Construction delivery 1st Qtr, 2021. The Village Stacks will be constructed at 1350 May Ave, Atlanta, GA 30316. This fantastic location will feature modern farm house style townhomes from $440,000. For [...]
Recent Blog Posts
Epic Development is excited to announce a new development in the heart of East Atlanta Village, Village Stacks. EAV is one of Atlanta's best choices for diversity of people, creativity and civic events. The December events include everything from EAV [...]
Like The BeltLine, 'The Stitch' Could Be Development Game-Changer For Atlanta Panel including Director of Development, Jim LaVallee, talks about how "The Stitch" could affect Atlanta development.
Join us on Thursday, March 16th, for Revel in Reuse - a fundraiser for Lifecycle Building Center.  
Signup for the Epic Development VIP mailing list.