Epic Development of Atlanta has been awarded the "Influencer" badge and the "Recommended" badge by Houzz, the leading platform for home remodeling and design.  Epic Development, a market
leader in residential design and custom construction in the Atlanta area, was chosen by the more than 25 million monthly unique users that comprise the Houzz community from among more than 500,000 active home building, remodeling and design industry professionals.
The Influencer badge is given to pros whose advice and knowledgeable posts are most appreciated by the Houzz community.  Epic Development has answered over 200 questions online.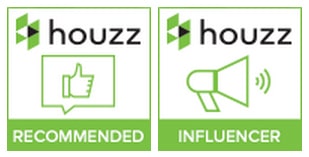 The Recommend badge goes only to the top-rated pros on Houzz as determined by Houzz professionals.
With Houzz, homeowners can identify not only the top-rated professionals like Epic Development, but also those whose work matches their own aspirations for their home. Homeowners can also evaluate professionals by contacting them directly on the Houzz platform, asking questions about their work and reviewing their responses to questions from others in the Houzz community. To contact Epic Development through Houzz, please visit http://www.houzz.com/pro/jimlavallee.