"Building more than homes, we're creating experiences."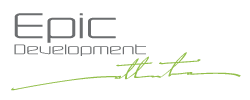 PHILOSOPHY
Our belief is simple. Design and build each home to complement the homeowner's lifestyle.

Epic Development
2019-01-30T17:05:22+00:00
6447 Vernon Woods is located in beautiful Sandy Springs, GA. The location offers access to hundreds of acres of natural space while still being just a short drive from downtown [...]
Recent Blog Posts
The Georgia Association of Realtors (GAR) just released the following real estate data from October.  The changes are year-over-year. New Listings decreased two percent to 12,249. Pending Sales increased seven percent to 9,188. Closed Sales increased five percent to 8,999. [...]
The Greater Atlanta Home Builders Association recently held their 36th annual OBIE Awards. The awards, named after the obelisk shape of the actual award given, are the premier awards in the new home construction industry. Awards are given to recognize outstanding [...]
Join us on Wednesday, December 7th, from 11:30 am - 1:00 pm to celebrate the Lifecycle Building Center's (LBC) purchase of their facility and acknowledge the incredible partners who helped them achieve this milestone. LBC is a community-based warehouse facility that [...]
Signup for the Epic Development VIP mailing list.