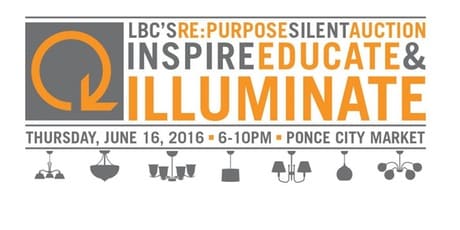 On Thursday, June 16th, the Lifecycle Building Center will host it's annual RE:PURPOSE Silent Auction at Ponce City Market.  LBC's Silent Auction brings together supporters, friends and community member for the organization's largest fundraiser of the year.  The auction will feature custom-designed furniture and artwork crafted from reclaimed materials.
The auction will be from 6:00 p.m. – 10:00 p.m.  Advance tickets are $40.00 and day of tickets are $50.00.
The mission of the LBC is to make the lifecycle use of the built environment increasingly efficient and sustainable.  The LBC operates a retail building material reuse center and uses the proceeds to fund grassroots community outreach programs and enhance resource efficiency in the built environment.  The LBC also empowers the community with the educational and experimental resources needed to effectively raise market demand for green building goods and services.
Epic Development is honored to support the LBC, and one of our Principals, Jim LaVallee, serves on the Advisory Board.